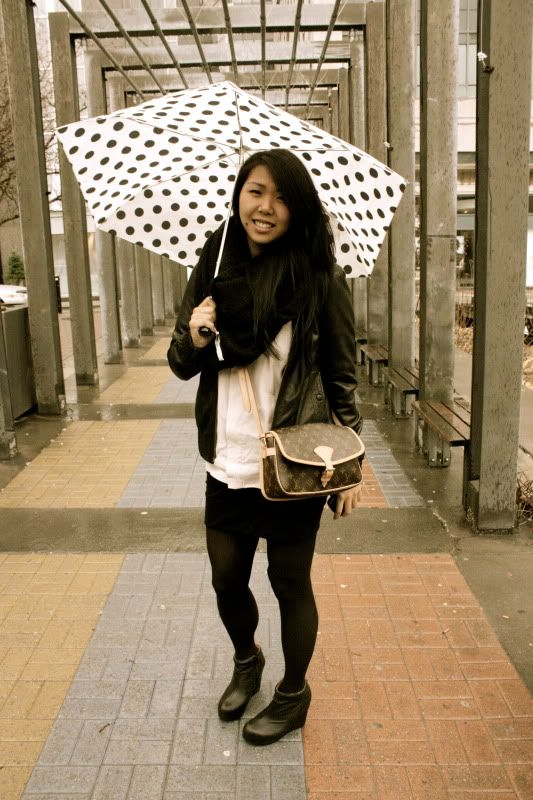 Simplistic Love. All you need is a great leather jacket, good shoes/purse and a cute umbrella... Although mine is black...(haha).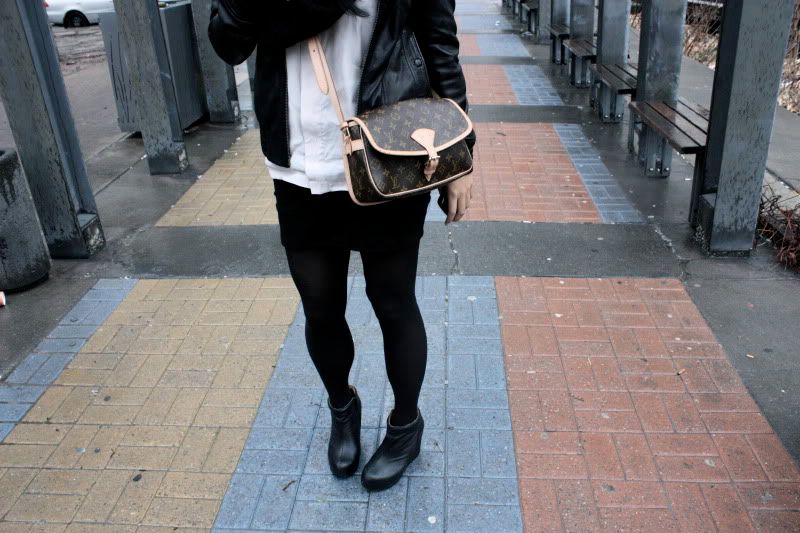 Wedged Booties from Aldo/Purse from Louis Vuitton.

JMa wearing a Mackage (Sophia) Leather jacket with a H&M silk blouse and Talula bandaged high-waisted skirt.

I would have liked to take more pictures of
JMa
, but holding onto two bags + an umbrella restricted me to do so. I'm used to rainy weather... since growing up in Vancouver, that's all I see for half of the year. I love indulging on
sushi
sur
sundays. I
crave
it... And I just realized that I get really
fatigue
on sundays too and I end up taking a nap for half an hour throughout
la jour
. Anyways, I forced Jess to dress
mignonne aujourd'hui
and we had a weird conversation on 'why it feels awkward wearing heels throughout the day'. For me, personally, I feel
awkward
like a
beast
when I wear heels (
casually
) because:
a.
I'm 5'7 (168cm) and me with heels, I feel like a giant.
b.
Asians are usually perceived as small and tiny so
maybe
it's a
cultural
thing...? AND
c.
I just feel more comfortable wearing ballerina flats or flat boots. Probably because I work
24/7
. I would definitely love to wear
heels
tous les temps
then I would have an excuse to go out and buy new shoes! Jess felt the same way
(haha)
.
"...good shoes will take you to good places..."
- Love, S.