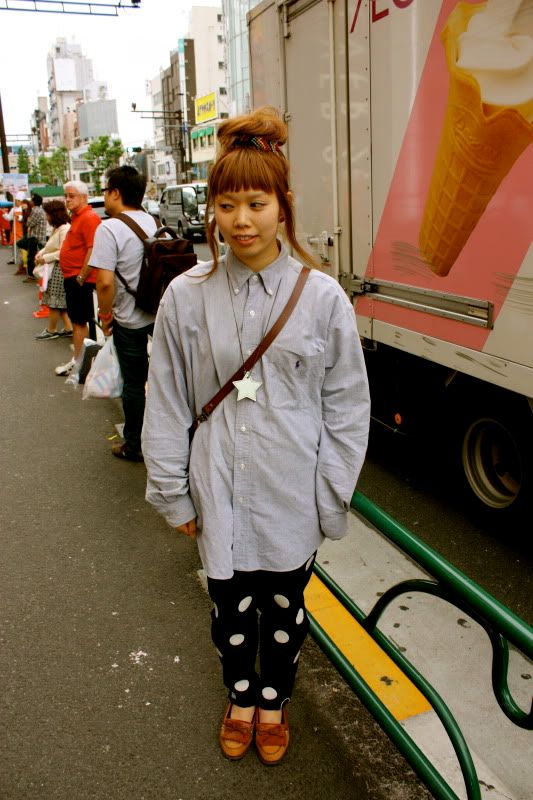 While Susu and I were doing our
last
rotation in
Harajuku
, we made a deal to ourselves and said that if we didn't capture at least
three
photos of the
fashionable Japanese
, we were going to give up and head home. Asking people to pose for a photo is
harder
than it seems! I think
we
were just intimidated - she was the first
photo
we managed to capture. She grabbed my attention by her
kawaii
polka-dotted pants and her over-sized boyfriend shirt. I love how all her
accessories
compliment each other - her moccasins matching her cognac purse, her over-sized star-inspired necklace matching the polka-dots and her beautiful beaded bohemian-inspired headpiece going along with the trend of Moroccan style!
(Which is super popular in Japan right now!)
. She was astonished at Susu's Japanese skills while, I was just in the background smiling and bowing my head in thanks...
haha
.
Oh! And if you were wondering if we were able to take two more photos before we went home - the answer is:
NO
. I attempted to ask a really cute
geeky-chic
girl walking down the street but, she knew we were going to approach her and politely walked away saying
sorry
in Japanese. After that failed attempt, we were both demotivated and decided to head to
Shibuya
to take pictures of the girls working at 109.
Did that even work out?
NO!
- another
fail
- we ended up
faire du shopping
for more make-up and jewels to be-jewel our NDS!
TOTAL FAIL
.
- Love, S.