Beau getting prepared for the mini photo-shoot...

A 'getting ready for the picture' picture.

It is officially FALL!

This is Natalie.P - Isn't she adorable?

Beau.G & Natalie.P - Minimalism is key - stick to the basics...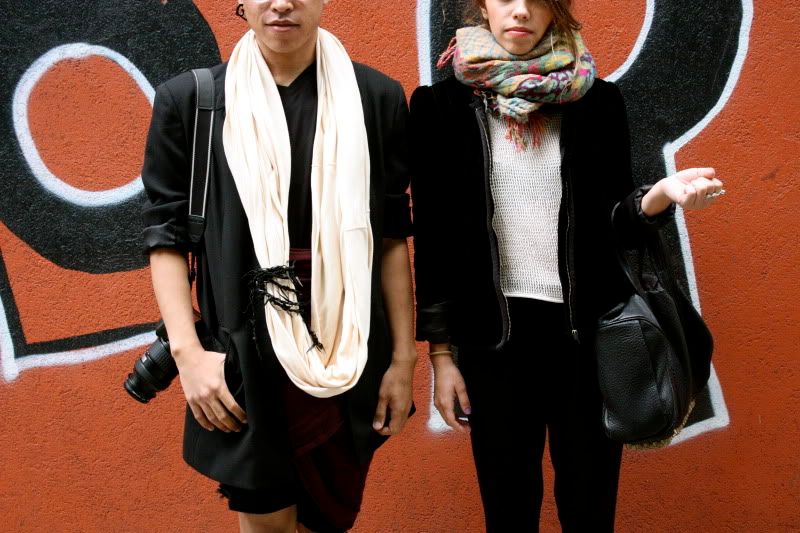 Up-Close: Beau wearing VV blazer, Uniqlo t-shirt, AA creme scarf layered w/a Vintage scarf, Ann Demeulemeester leather necklace, BDG cut-offs // Natalie wearing Wilfred Velvet blazer, H&M top, Community cotton harem pants, Wilfred wool scarf (F/W09), Alexander Wang Rocco Purse.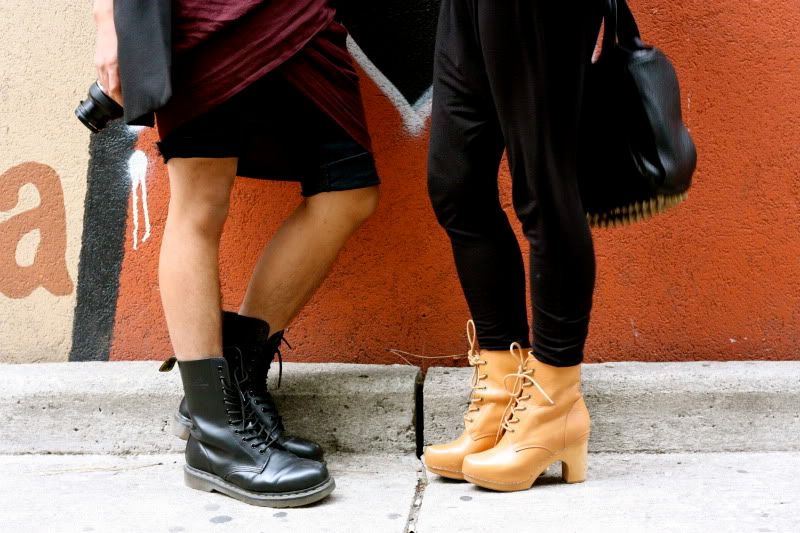 Dr. Martens // Jeffrey Campbell

IT IS OFFICIALLY F A L L
- Fall is one of my
favorite
seasons of the year. Know why? Because of it's perfect weather conditions to actually
layer
-
OUT with the skimpy bikinis, short skirts, tanks & God knows what...
To be able to actually wear your
amazing
fall coat that you've locked up all summer brings back the most wonderful memories of the past. Natalie.P's
fall inspiration
:
CLOGS
...As for Beau, I asked him, the talented
street-style
photographer and blogger, what is his *key* fall piece that he never leaves the door without - his answer:
"I never leave home without a lone earring"
. What is something that you can't leave
your
home without? -
pour moi,
I would need to say
accessories
as well - my friends call it
my bling...
But it's because I feel naked without them! Anyways (
getting totally off topic
)...
My must-haves for this season
: i) The perfect
Camel coat
- I feel like everyone's searching for 'the IT coat' these days, but I haven't found one that I fell in love with... ii) I would
like
to follow the
MINIMALISM
trend this season - going back to the basics aka the color
black
- I don't know if that'll work because I love
prints & color
iii) I know I shouldn't be putting this in my list of 'must-haves' but I am still on the look out for a great purse (
any suggestions
) - although I bought one a couple months back...
Am I being a bit crazy??
Love, S.