A look into
la vie de
Tiffany.
C'est mon amie: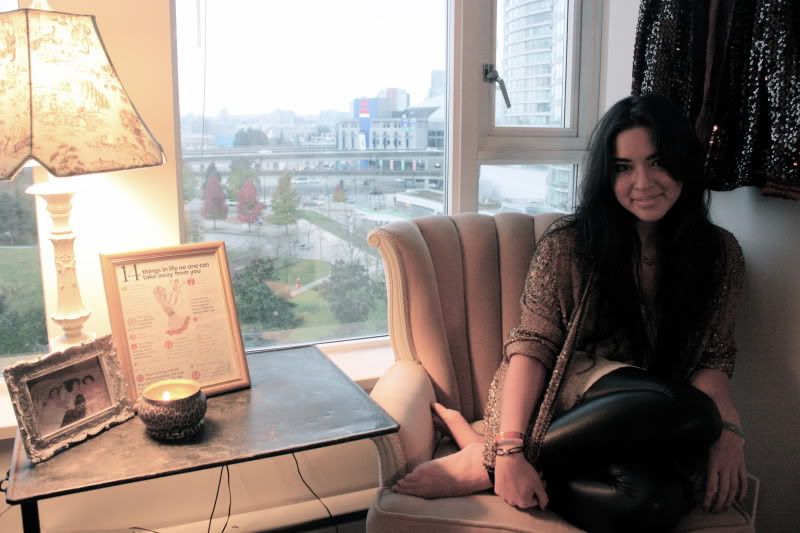 nom:
Tiffany. S
âge:
Reaching mid-20s...
profession:
in fashion, dealing with numbers
If you could be anything in the world...
a hippie
J'ai demandée les questions de la mode...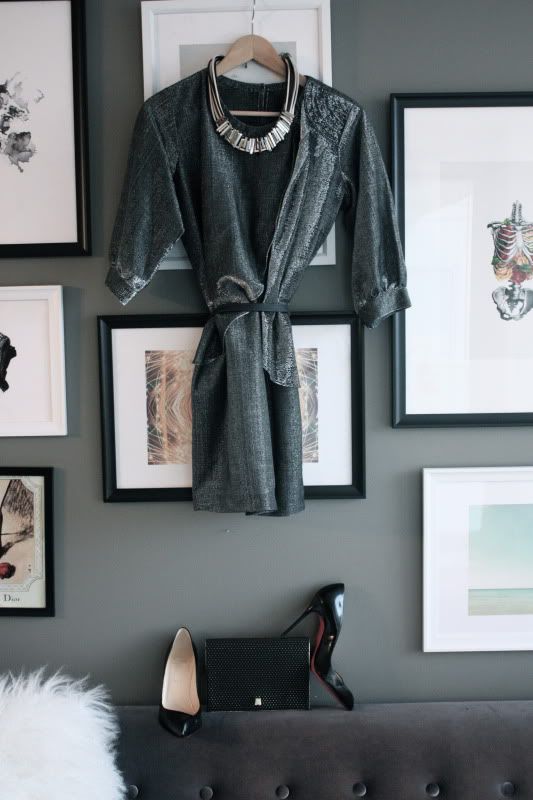 1. What are you most excited to wear for the Holiday Season?
_My vintage silver dress purchased from Mintage, paired with Christian Louboutin Cornelle's, my mom's vintage Lanvin clutch and a chunky necklace from H&M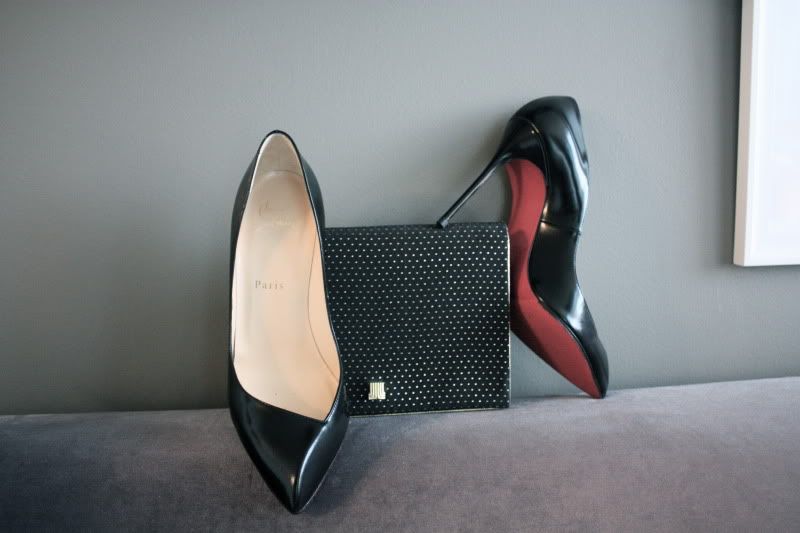 2. Speaking of the holidays, how are you going to spend it?
_I'll be working (unfortunately)... spending time with family and a special garçon from out East... Love
La Maison de Tiffany.
3. You said you had to surprise me with your most recent purchases! What are they?
_I was looking for pointy-toe heels for awhile now and found the perfect pair! Found: Christian Louboutin Cornelle Heels and House of Harlow Sunglasses (I love the case).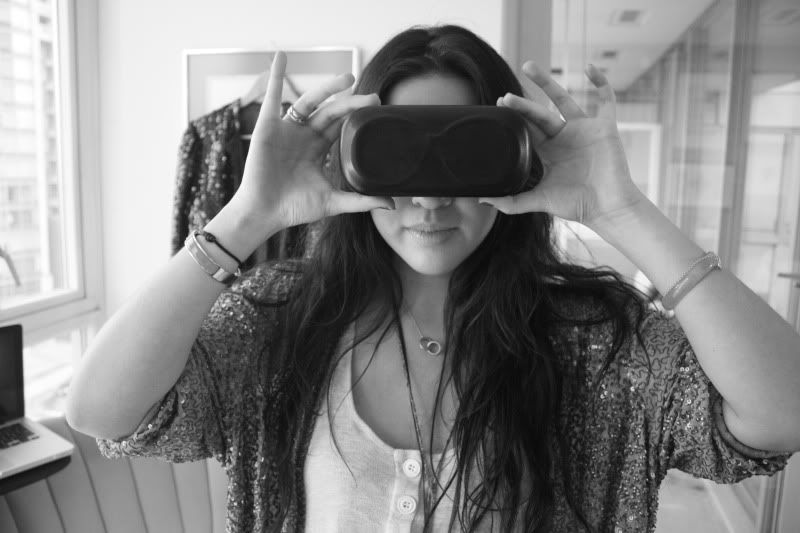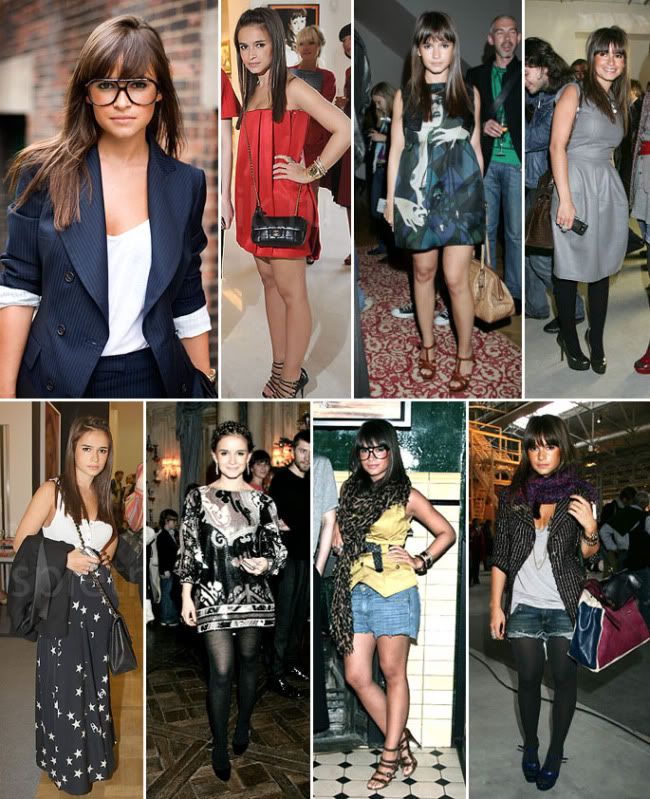 4. Who is your style muse?
_It would have to be Miroslava Duma (editor for Harper's Bazaar - Russia)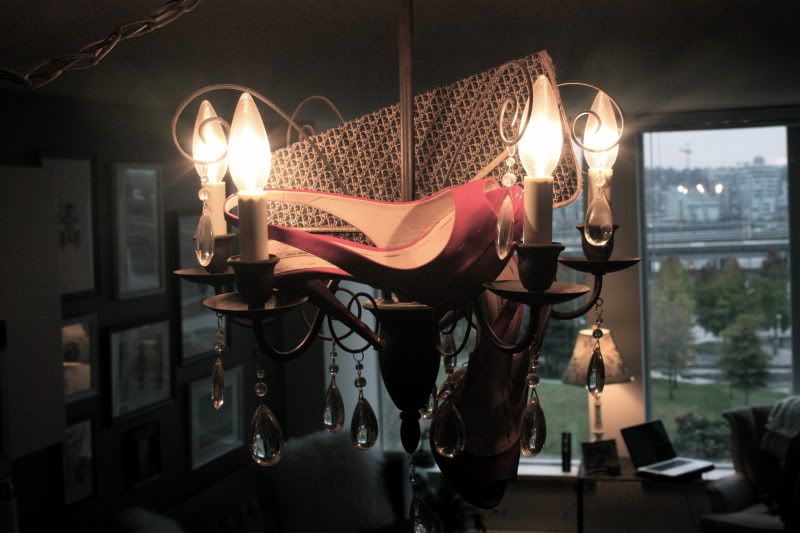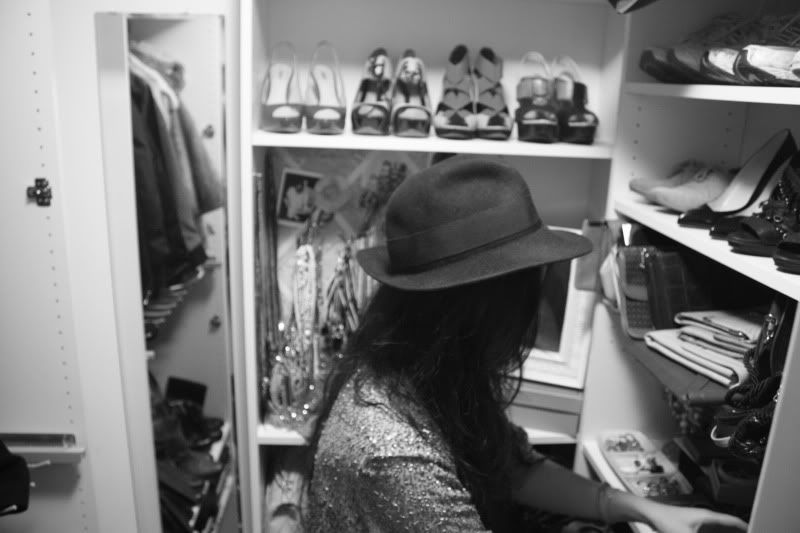 A look inside Tiffany's shoe closet...
5. What is the one thing you can't leave your house without?
_Lipstick!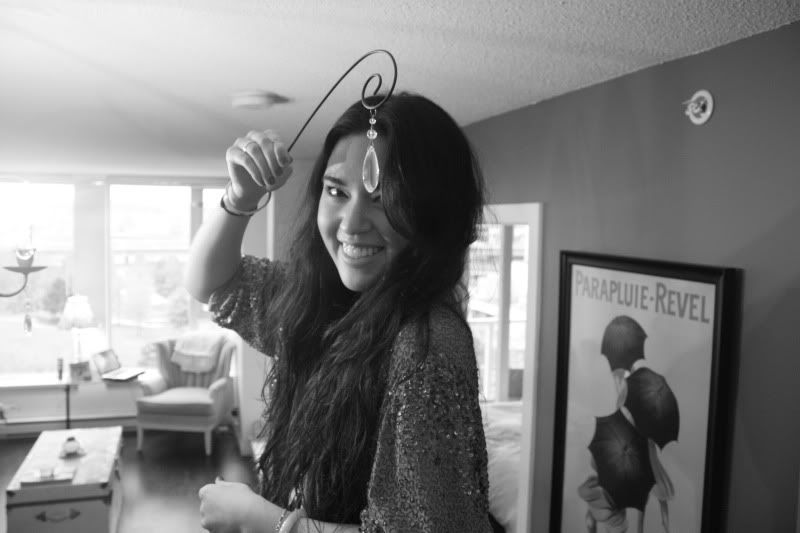 T.S.
6. What colour are you most into right now?
_I always wear Myth (MAC) and another new favorite is Up the Amp (Mac)
7. What are your favorite pieces (most proud purchase) in your home and why?
_(A): Trunk - I got it from a thrift store, painted it myself on my balcony/ (B): Pink Chair - Got this from an antique store, replaced the trim and painted it/ (C): Window-shaped Mirror - antique store again and it's super unique/ (D): Rustic side-table - brought this back from Toronto... let's just say, it was a mission to haul halfway across the country...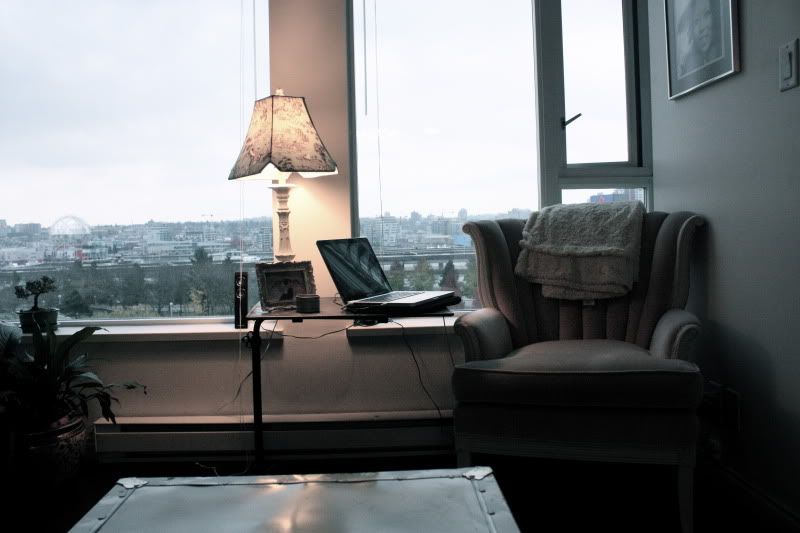 The Pink Chair.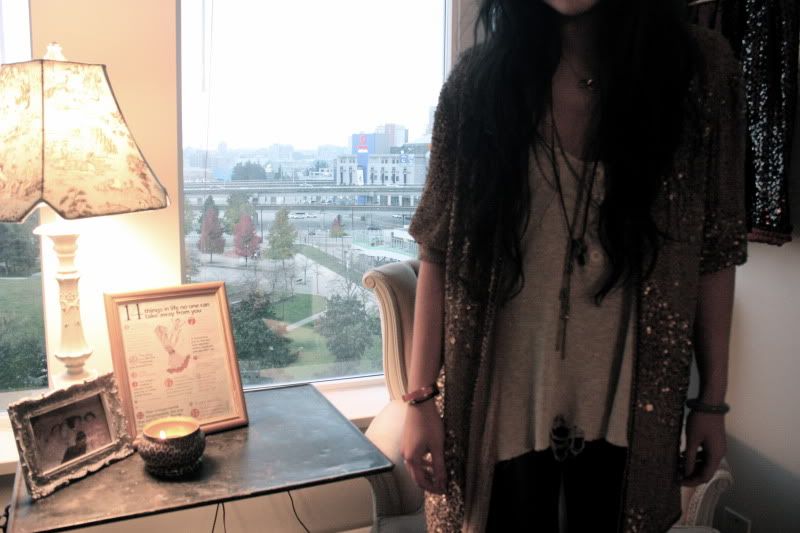 The Side Table.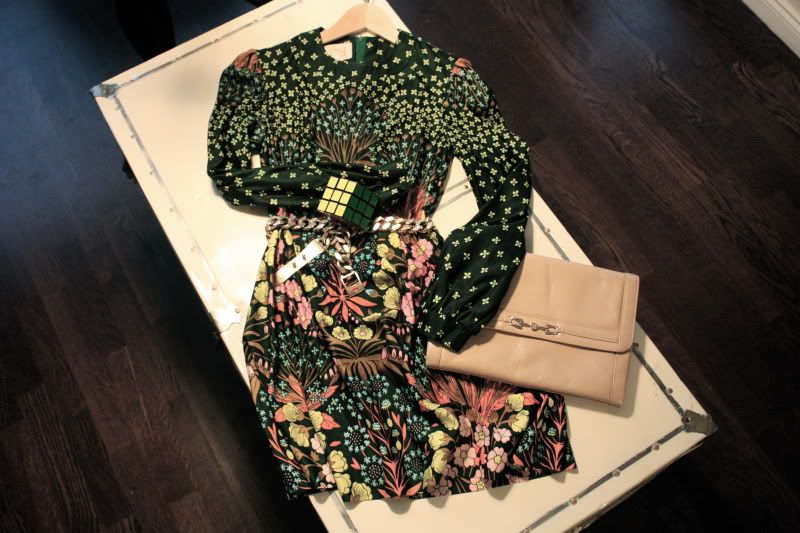 Hand-painted trunk w/ vintage floral print dress, clutch and a solved Rubik's cube.
8. Can we take a peek inside your bag?
_Sure!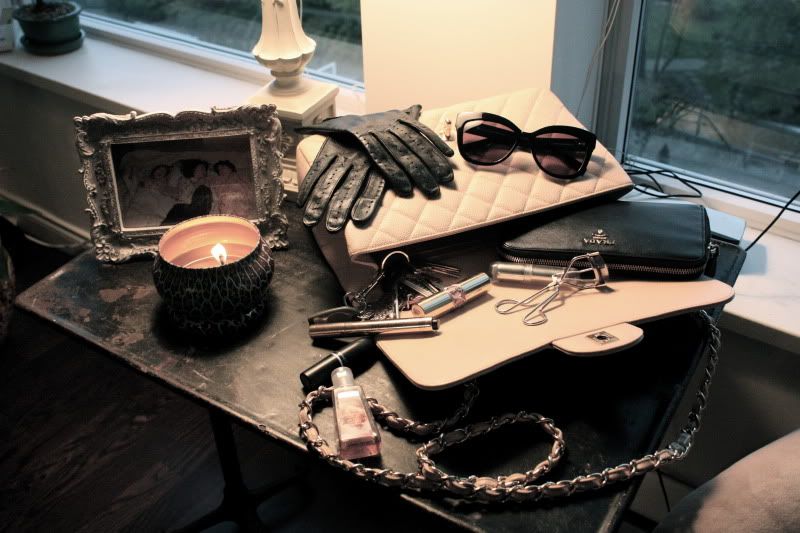 9. What do you have in there?
_Lipstick (obviously): YSL Rouge Volupte 7, Shu Uemura 317, Mac Up the Amp, Eyelash Curler, YSL Touche Eclat 2, Bath and Body Works Cinnamon Heaven hand sanitizer, Wilfred leather gloves, House of Harlow Sunglasses, Prada Zip Wallet and house keys.
10. What type of bag are you most into this season?
_The Celine Boston Tote in Forest Green
11. Can you share with us your most regretful purchase(s)? (If you have any)...
_Yes... I have many regretful decisions. I just did a huge winter clean-up in my closet and got rid of a lot of my hideous purchases, things that even a consignment store wouldn't take! Here are some that were still lying around...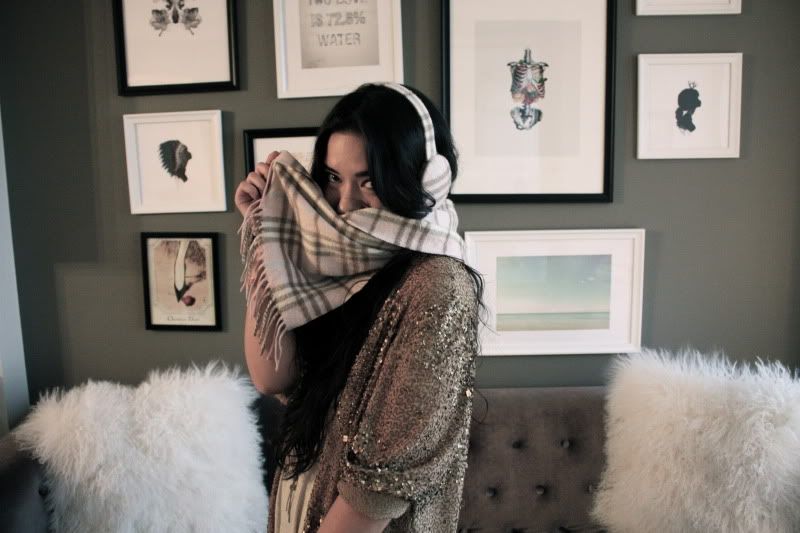 Burberry plaid scarf with matching ear muffs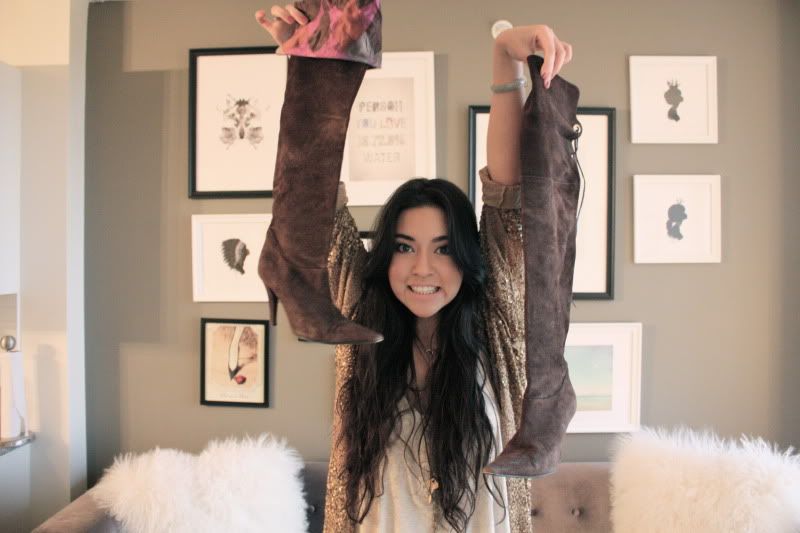 Pucci over-the-knee pointy suede boots...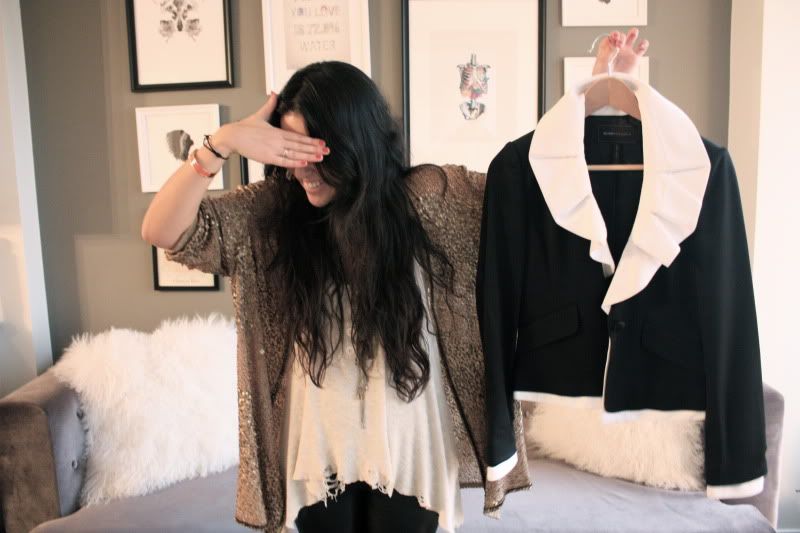 BCBG Black Blazer with white frill detail
An assortment of hairbands... do you remember the 'Gossip Girl' era...?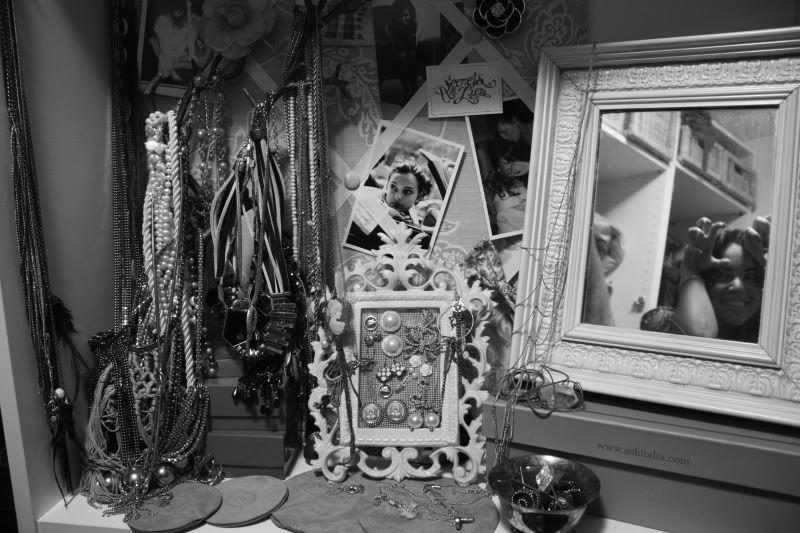 12. What blogs do you read and follow?
_I follow Man Repeller and JPEG Heaven but I also check out a lot of tumblr sites... too many to list...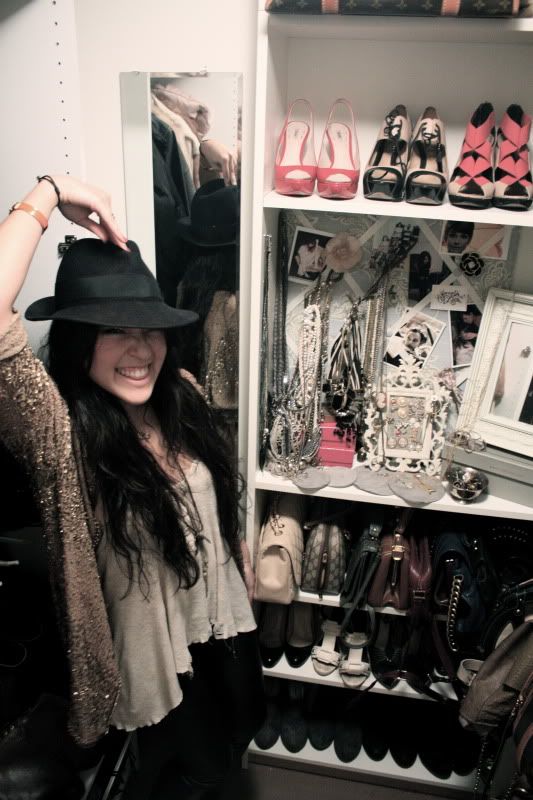 13. Any travel plans for 2012?
_Thailand and Hong Kong in February for my cousins wedding and to see family/ Toronto in March/ A potential 'hippie' adventure with M.Peters in the summer and obviously a girls-only trip, like our Spanish Adventure!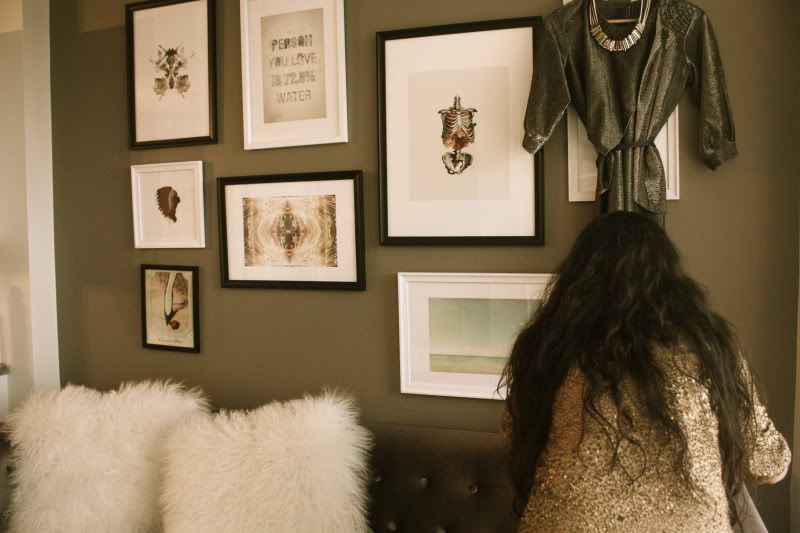 14. Last question! What are you inspired by?
_This is a hard question... but ultimately, I'm inspired by my friends and their ambitions. It keeps me motivated and since I'm still young, I have endless resources to do anything I want (which shouldn't be taken for granted)... Travel and people who follow their dreams. Family is also a huge inspiration: being the youngest out of 17 grandchildren benefits me because I have cousins all over the world who have different occupations. They're good mentors in my life...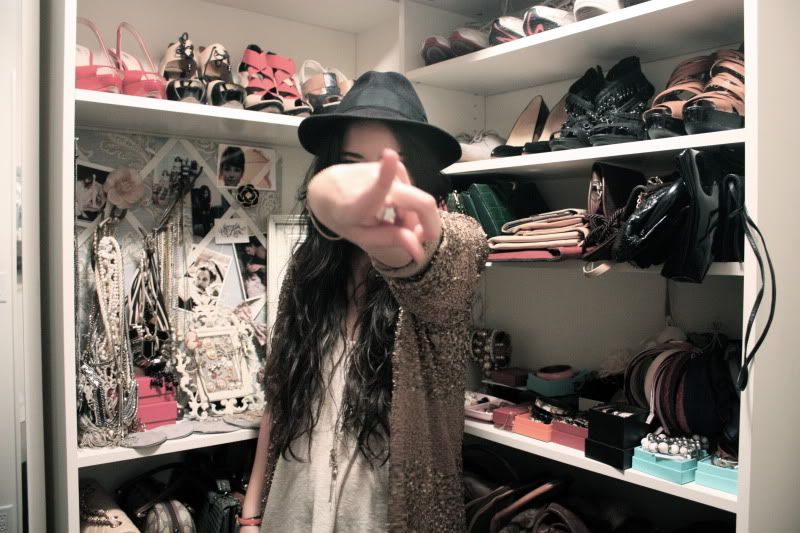 15. Sorry, I lied, one more (just because I'm curious)... what book are you currently reading?
_I'm reading Sacred Economics by Charles Eisenstein. Deep down, I'm a naive hippie that just wants the world to change and be a better (and happier) place. When I was young, I wanted to work in fashion as I had this preconceived notion of a glamorized life. Currently, I do work in fashion but I'm doing more of an analytical job (with numbers)... I guess graduating in Commerce at UToronto did pay off... Later, I know I want to do something that's more 'closer to my heart' and eventually I want to change the world (haha).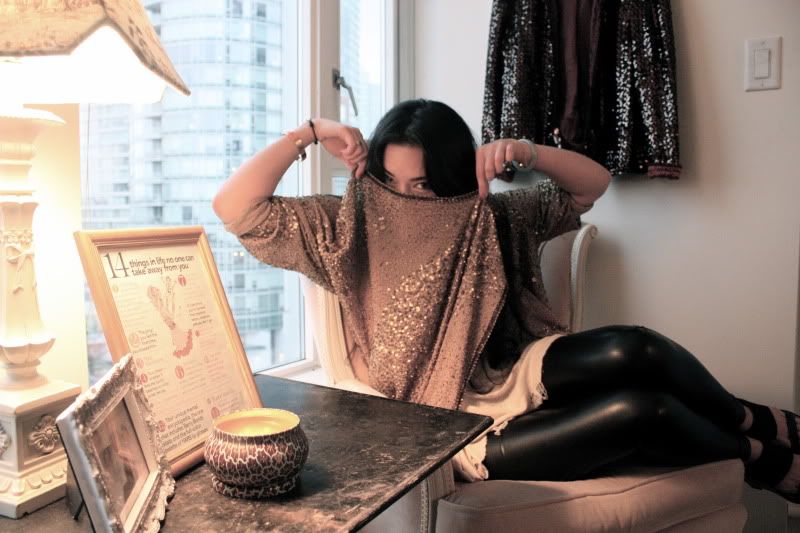 Until next time...!
This post was by far the most time-consuming post I've done. It took myself and Tiff approx. four hours to shoot her house: organizing things neatly, hanging things from chandeliers and using night lamps as the main source of light. BUT, I loved every moment of it and I need to do more on my
wonderful/ fashionable
friends. I find it's super interesting, inspiring and motivating! Who's next?
Georgia and her crazy DYI (turning old into new) projects
...? Perhaps... I hope you guys enjoyed this as much as I did and learned something new about my good friend Tiffany, the naive hippie who wants to change the world -
don't we all?
- Love, S.