My close girlfriends and I planned to go on a little adventure this past weekend...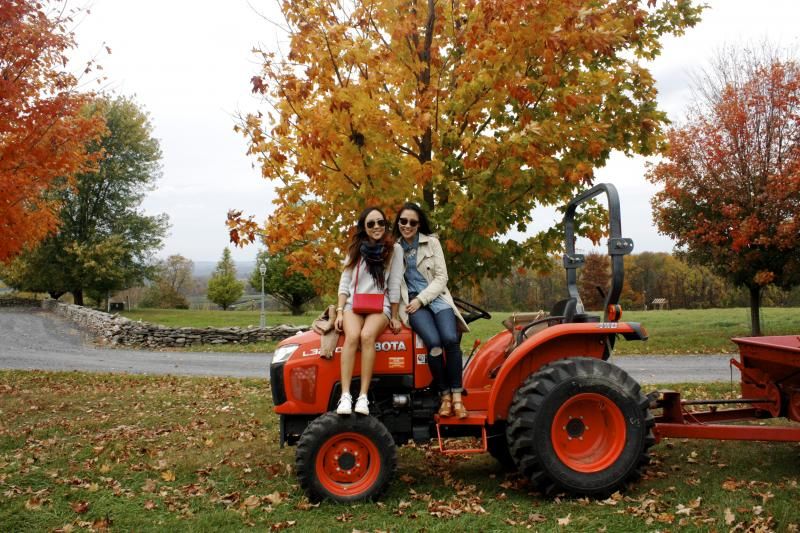 Inspired by the amazing weather we've been having in New York, we made a day trip to
Warwick Valley Winery and Distillery
to pick delicious apples and to do a short wine tasting. Of course, this being my first
apple picking adventure
, the first question I asked was: "What do we wear?"
I decided to embrace my inner 'Canadian-ness' and went for a
denim on
denim
look, which friends have labeled this the official 'Canadian'
uniform
tuxedo.
I accessorized it with a jeweled necklace and sandaled clogs (
yes, I still love my clogs
); also, my outfit was styled by rolling up the sleeves and the denim jeans to my ankles, while tucking in half of my denim shirt into my pants -
it's the small details that count.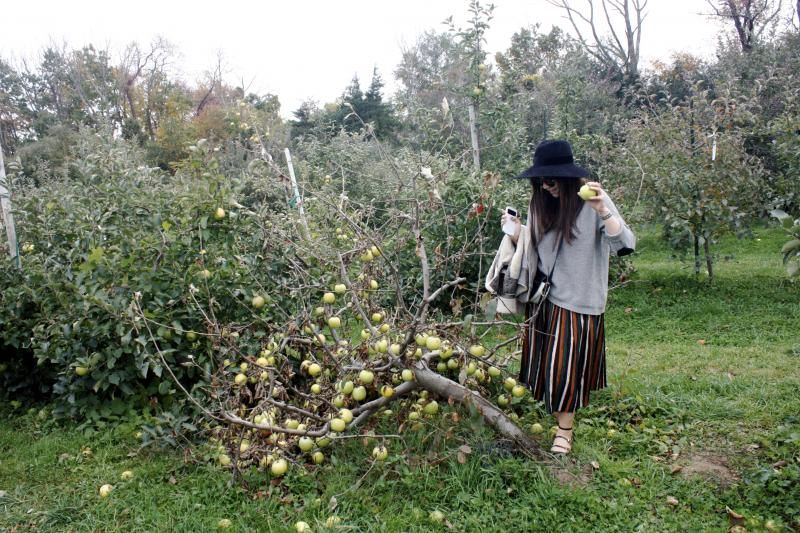 My friend, Annie already had her outfit planned. She wore a pleated ankle length
maxi skirt
in muted fall colors with an oversized knitted sweater, styled with a wide-brimmed hat and pointy-toed flats. Bo and Dara had trouble deciding, but I suggested they get into a day dress or something plaid.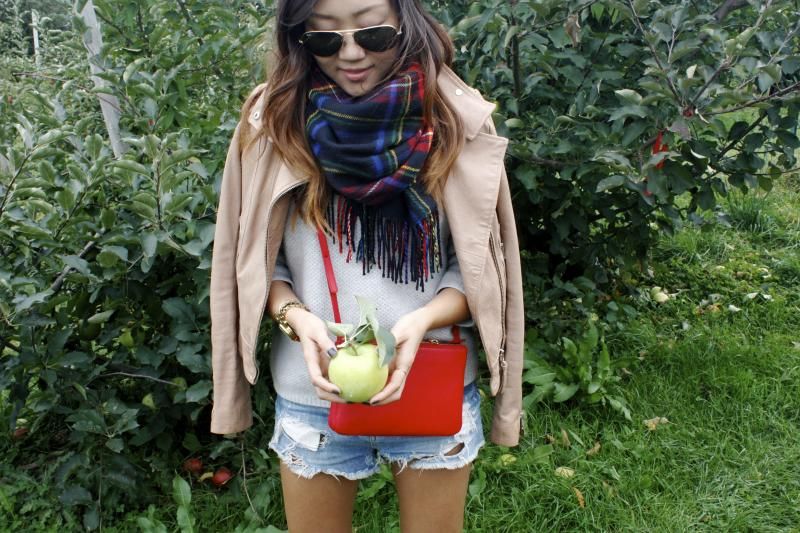 Bo ended up wearing denim shorts with a motorcycle leather jacket, layered on top of a cashmere sweater. She wore comfortable sneakers and did rep the
classic tartan plaid scarf
, that matched her rose red side purse.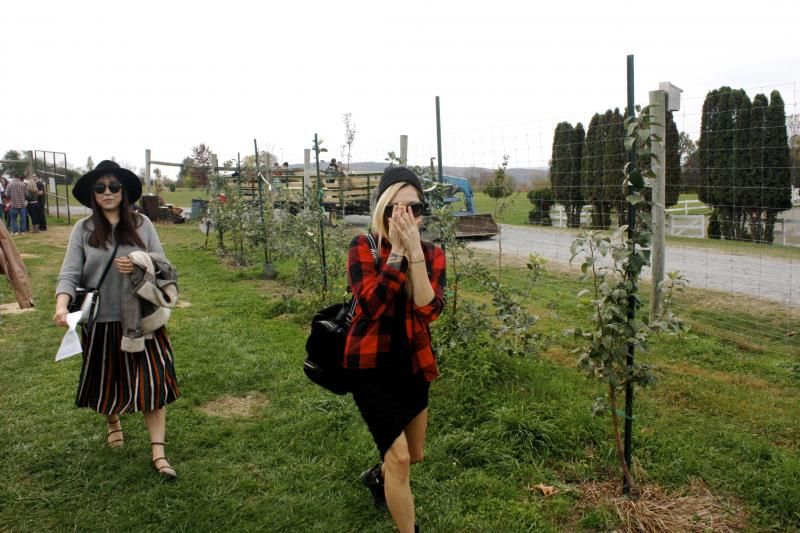 Lastly, Dara came in a full-on
lumberjack-inspired button up
paired over an asymmetrical skirt and cropped top. Of course, her accessories completed her look: classic black beanie and a faux fur back pack.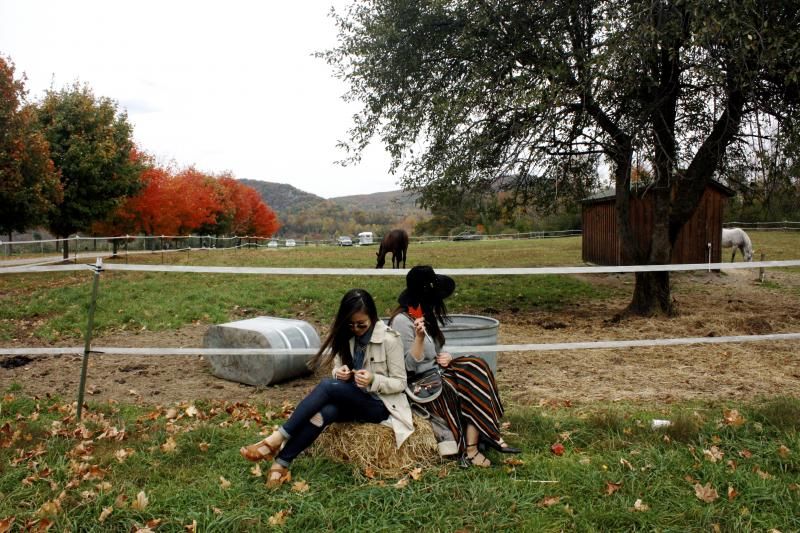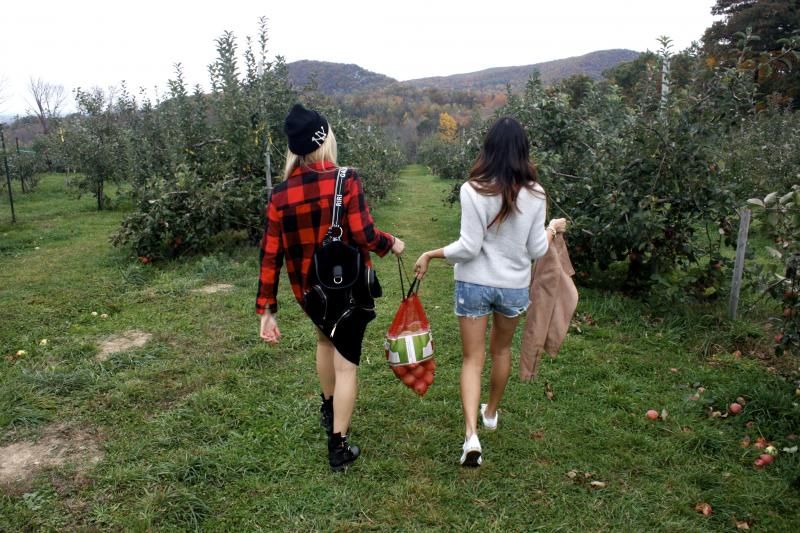 I loved all our looks that day because it epitomized our own personal style, our personalities and our characters. Individually, we are all different and unique, but when we come together, we balance each other out. Don't you agree?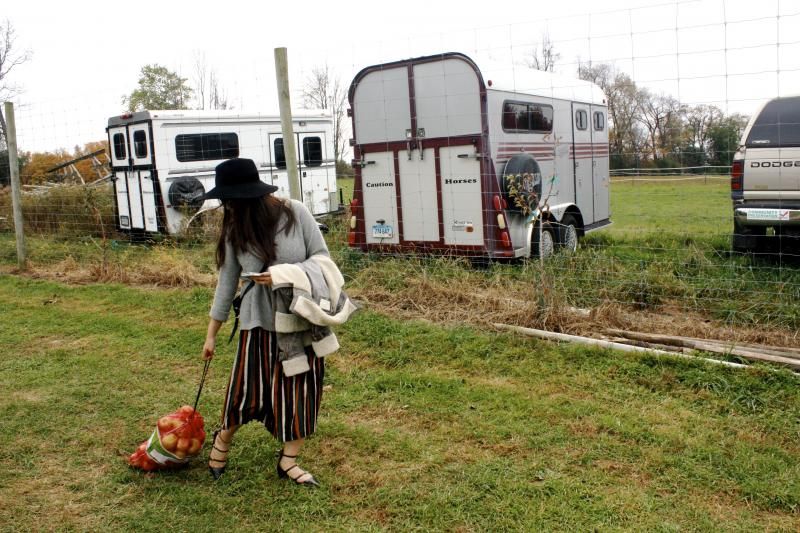 Things we should have known before our apple picking adventure:
1. If you're deciding boots or sandals over sneakers, go for the latter. I was trying to be all fancy and wore clogged sandals...I literally almost broke my ankle looking for apples (
so many
potholes!), walking down the hills or through the dirt roads.
2. Bring a blanket! It gets crowded (especially on the weekends) and it's a fight for an open table or seats. If you bring blankets, you can have your own little picnic on open grass.
3. Be sure to layer or bring a scarf. It does get chilly up there! Especially on the tractor.
4. Do the wine tasting before heading up to pick apples. We were too eager and went up right away.
5. Lastly, bring a
boy
man.
I'm not joking.
Those apples are HEAVY… even four girls couldn't carry it that far. I had a sore back the next day...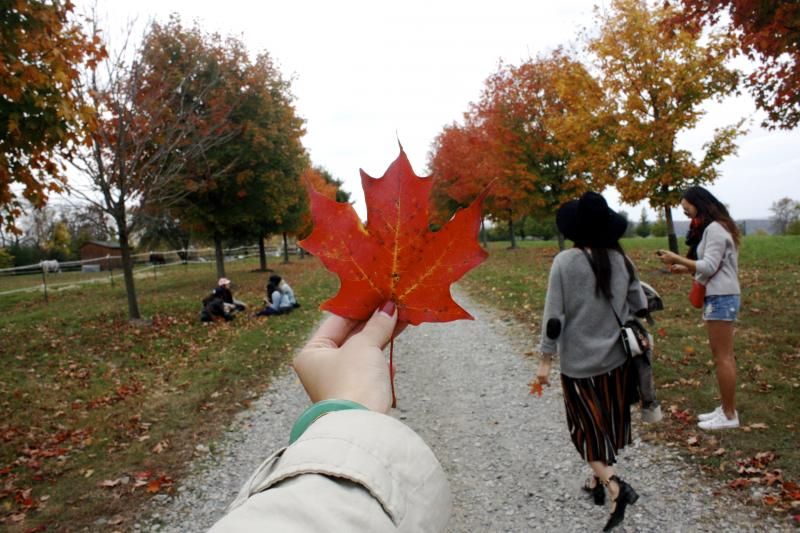 PS. the apples were
deeeeeeeelicious
Serina x